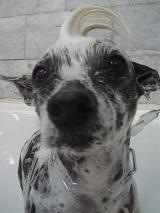 We are thorough, careful and respectful; therefore, we usually require approximately 5 hours completing a full beautification process.

All appointments are for a specific time staggered throughout the day where we will give you an estimated pick-up time. Once ready, we'll call or send you an SMS to your mobile.

If you have specific time requirements, please advise at the time of making your booking and we'll attempt to accommodate this.


Shampoos – Hypoallergenic, Medicated, degreasing or mild Aloe Vera
Flea treatments - pyrethrin Shampoos & rinses
Wash-&-tidy for longer coats - great for regular up-keep or in-between full grooms
Scissor & style grooming - hand scissoring allows for just about any style
Summer-style clips - easy maintenance & very popular
Nail clipping & buffing - Just want those 4-paws nails clipped? then just drop in anytime
Ear cleaning (plucking and cleaning with medicated solution)
Tooth brushing with chicken flavoured toothpaste (yes they get their own toothbrush)
Nail polish (check out Cherry's nails when next you are in for a sample)
We also carry yummy treats all at discounted prices.



Pre-bath brush and de-knotting
Ears plucked & cleaned
Nails trimmed & buffed removing jagged edges
Full wash in warm fresh water (guaranteed no Hydrobath ever used)
Shampoo: 2 full lathers tailored to your pets skin & coat needs to remove dirt & dander
Flea treatment Shampoo & rinse options where required
Silky soft conditioners including Oatmeal & Protein
Fresh towels for each dog - we never re-use bath towels
Fresh drinking water
Supervised toileting on grassed area half way through their visit to A Dapper Dog
Gentle warm air driers are then used - your dog is never cold
Full brush & comb through to remove more excess hair & produce that 'finished' look
Anti-fatigue mats for our older clientele
Do you have your own dog shampoo you prefer to use?
Has the vet prescribed you something for a skin condition?

Feel free to bring it along. We are able to apply most prescribed treatments (a small surcharge may apply if we need to "soak" or use gloves). Please mention this at time of booking and your groomer can discuss your requirements. Remember, we're here to make life easier for you and your pet. We'll never embarrass you.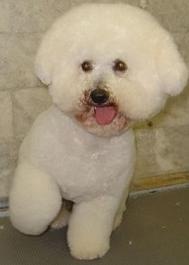 This is Max after he's had a full grooming including pre-bath brushing, shampoo and silky conditioner.

He has then been hand scissored to produce an award winning style.

Max loves the camera.