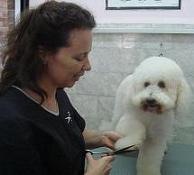 A Dapper Dog Grooming is Sydney's most trusted grooming salon maintaining your dog's grooming needs backed up by over 25 years experience in Sydney's Eastern Suburbs.

We provide a full range of professional dog grooming services including; clipping, bathing, styling & just walk-in nail clipping.

A visit will leave your pet looking & smelling great whilst feeling like a well loved member of your family!

We listen to you.


Sydney's 1st fully accredited & certified dog grooming parlour

Sydney's Eastern Suburbs only accredited dog grooming & washing parlour



Certified Master Groomer with International Professional Groomers Inc. USA

Over 25 years experience dog grooming in Sydney's Eastern Suburbs


Multi Award winning stylist & Award winning staff

A dedicated Dog grooming establishment specialising in selected dogs only


A Dapper Dog Grooming parlour is truly Sydney's & Eastern Suburbs best & most trusted dog grooming parlour. Click on the About Us page to find out why we believe so.

So come in and discuss your grooming requirements. We're here to help you ensure your pet is part of your family the way you want it.



See the Contact Us page for details on parlour hours, location, email, parking etc.

274 Maroubra Rd, Maroubra NSW 2035 PH: (02) 9344 5522